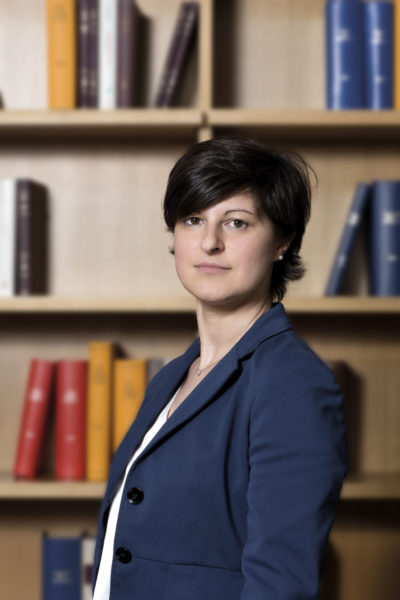 Chartered Accountant
Bio:
Graduated in Economics cum laude in 2006 at Università Cattolica del Sacro Cuore di Milano. Enrolled in the Register of Chartered Accountants of Milan since 2010. Auditor since 2010. Joined the Firm in 2006.
Expertise:
In 2007 accomplished the Master in Corporate Tax Law at Università Commerciale Luigi Bocconi di Milano.
Languages:
Italian, English, French, German.
Publications and conferences:
23/09/2022


Lo studio ha curato gli aspetti fiscali dell'operazione, con un team composto dai partner Luigi Garavaglia e Federico Innocenti e dalla senior assiociate Roberta Sironi


Scarica allegato

19/09/2022


Lo studio ha agito con un team composto dal partner Franco Pozzi e dalla senior associate Roberta Sironi


Scarica allegato

28 Marzo 2022 - c/o Euronext - 31/03/2022


27/01/2022


Lo studio ha assistito Eataly Real Estate per gli aspetti fiscali, con un team composto da Luigi Garavaglia, Federico Innocenti e Roberta Sironi


Scarica allegato

Il Sole 24 Ore del 01.08.2020 a cura di Marco Piazza e Roberta Sironi - 04/08/2020


Il principio di diritto 10 del 2020 va letto alla luce della risoluzione 38/2012.


Scarica allegato

Il Sole 24 Ore - 16/09/2019


Il 30 settembre scade il termine per aderire al regime del gruppo Iva che decorrerà dal 1° gennaio 2020. Su Il Sole 24 Ore il contributo di Francesco Nobili e Roberta Sironi.


Scarica allegato

26/03/2019
"Fiscalità immobiliare", un libro a cura di Emilio Ettore Gnech e Marco Abramo Lanza, redatto con la preziosa collaborazione di Simona Zangrandi e Roberta Sironi.
Scarica allegato

Reggio Emilia, Unindustria - 15/12/2017
Fare impresa all'estero - aspetti fiscali, contrattuali e assicurativi (Parte Fiscale)
Scarica allegato

Milano, Rothschild SpA, 9 giugno 2017 - 09/06/2017

Scarica allegato

Reggio Emilia, Unindustria - 03/11/2016
Le principali novità in materia di fiscalità internazionale
Scarica allegato