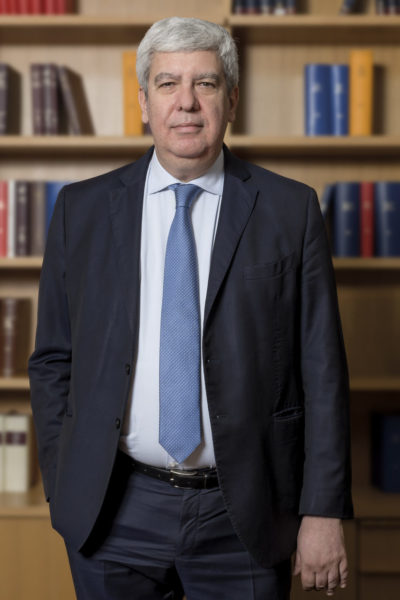 Chartered Accountant
Bio:
Graduated in Economics cum laude in 1983 at Università Commerciale Luigi Bocconi di Milano.
Enrolled in the Register of Chartered Accountants of Milan since 1986. Auditor since 1995. Joined the Firm in 1984, Partner since 1991.
Expertise:
Domestic and international restructuring, banking and finance tax law.
Speaker in many seminars on financial and international tax law, formerly advisor of Assosim (Italian association of financial intermediaries). Member of the steering committee of International Fiscal Association (IFA) – Italian branch. Member of International tax law committee of the Milan Chartered Accountants Association.
Languages:
Italian, French [native], English.
Publications and conferences:
ILO International Law Office Newsletter - Corporate Tax - Italy - 17/04/2020


On 17 March 2020 the government published Decree-Law 18/2020 in the Official Gazette (the socalled 'Heal Italy' decree-law, which entered into force immediately). The decree-law, which is currently being examined by Parliament, must be converted into law by 16 May 2020 and is therefore still subject to modifications.


Scarica allegato

27/03/2020


Studio Biscozzi Nobili Piazza ha sintetizzato la nuova misura finalizzata a far affluire liquidità alle imprese introdotta dall'art. 55 del DL 18/2020 (c.d "Cura Italia") che consente di trasformare in credito d'imposta le perdite fiscali pregresse e le eccedenze ACE


Scarica allegato

24/03/2020


Italy enacts special measures to provide liquidity by granting companies that dispose of NPL and UTP an anticipated set off of deferred tax assets against tax debts: the analysis of Studio Biscozzi Nobili Piazza


Scarica allegato

Il Sole 24 Ore del 29.01.2020 a cura di Marco Piazza e Oliviero Cimaz - 29/01/2020


Anti elusione - Da considerare il principio dei disallineamenti per le società di Stati diversi - V a anche evitata la duplice inclusione dei redditi nei due Paesi


Scarica allegato

Il Sole 24 Ore - 10/01/2020 - 13/01/2020


L'AIDC di Milano ha sporto una denuncia alla Commissione Europea

Articolo su Il Sole 24 Ore del 10/01/2020 a cura di Oliviero Cimaz e Marco Piazza


Scarica allegato

12/12/2019


Azimut Holding S.p.A., primario Gruppo Italiano indipendente operante nel settore del risparmio gestito, ha concluso con successo l'emissione di un prestito obbligazionario non convertibile a tasso fisso per un valore complessivo di 500 milioni di euro. Per gli aspetti fiscali ha agito lo studio Legale e Tributario Biscozzi Nobili Piazza con un team composto da Oliviero Cimaz e Andrea Spinzi. Di seguito i dettagli dell'operazione


Scarica allegato

Il Sole 24 Ore del 28/11/2019 - pagina - 02/12/2019


Direttiva ATAD - Le norme di contrasto ai disallineamenti da ibridi dal periodo d'imposta 2020 - La nuova stretta non opera automaticamente ma solo in caso di intenzionalità


Scarica allegato

Rivista "Strumenti finanziari e fiscalità" dell'Università Bocconi - 25/10/2019


Articolo "Le relazioni tra abuso del diritto e beneficiario effettivo nella recente giurisprudenza della Corte di giustizia: ancora dubbi e problemi irrisolti"


Scarica allegato

A.I.D.C. Position Paper - 03/06/2019

Scarica allegato

Il Sole 24 Ore del 27.12.2018 - 27/12/2018

Scarica allegato

17/09/2018
ABSTRACT - Studio Biscozzi Nobili's Comments regarding OECD's "Additional Guidance on the Attribution of profits to permanent Establishments"
Scarica allegato

04/05/2018
Attribuzione del reddito alle stabili organizzazioni - Indicazioni aggiuntive (Attribution of profits to permanent establishments - Additional guidance)
Scarica allegato

Bologna, Royal Hotel Carlton - 22/05/2017
IFA Italia incontro sui Recenti sviluppi in materia di transfer pricing - relazione Il Country by Country Reporting
Scarica allegato

19/05/2017
Country-by-country reporting – obligations of Italian subsidiaries of multinational groups - International Law Office/Corporate Tax Italy
Scarica allegato

Milano, S.A.F. Fondazione dei Dottori Commercialisti di Milano - 17/10/2016
Disciplina delle riorganizzazioni societarie e le direttive comunitarie in materia di riorganizzazione transfrontaliera: disciplina generale e aspetti critici - Intervento
Scarica allegato

30/06/2016
BEPS 15 - request for input on the development of a multilateral instrument to implement the tax treaty-related BEPS measures
Scarica allegato

Convegno Paradigma, Milano 11.12.2015 - 11/12/2015

Scarica allegato

Milano, Hotel Hilton - 11/12/2015
La definizione di hybrid mismatch arrangement - Intervento presso convegno Paradigma
Scarica allegato

Milano, Via Monte Rosa 91 (Sede Sole 24 Ore) - 26/01/2015
Roadshow Voluntary Disclosure - Convegno MPS Private Banking in collaborazione con Il Sole 24 Ore
Scarica allegato

Milano - Convegno Paradigma - 25/07/2012
Convegno: Imposta di bollo sui prodotti finanziari
Scarica allegato

01/07/2012
Articolo: Imposta di bollo speciale ed attività emerse
Scarica allegato

Nuovi Scenari per imprese e patrimoni - Milano, 6 marzo 2012 - 06/03/2012

Scarica allegato